Businesses today cannot afford the same luxury of not having a social media presence or their own website. At least on Twitter, Instagram and LinkedIn, and barely on any platform that has a target audience. Let's dive in and answer the question Does Content Marketing Really Work For Your Business?
This is where you can build bridges with people – long-term, positive, friendly and warm relationships that lead potential customers not to look to your competition but to stay and protect your brand. What could contribute to this precious relationship? Content Marketing. In this article, we'll dive into what it is and the benefits it can bring to any marketing strategy.
Brief Rundown
Content marketing can be defined as a promotion using content. It may sound simple at first glance, but it means a lot more. First, there is a content component. This includes blog posts, articles, podcasts, videos, and more. Typically, this is information in written, spoken, or visual form. Together, these materials contribute to your marketing goals.
The main question is how will you communicate information about the product or service that people want to become your customers.
Content Marketing Statistics
Why are so many people using content when trying to engage with an audience? The main reason is that the content reaches the people they spend most of their time with (almost seven hours a day): in the online environment. According to Statista, there are approximately 4.66 billion people in the digital information space in the world. This means that almost half of the world's population is connected by devices, a huge market.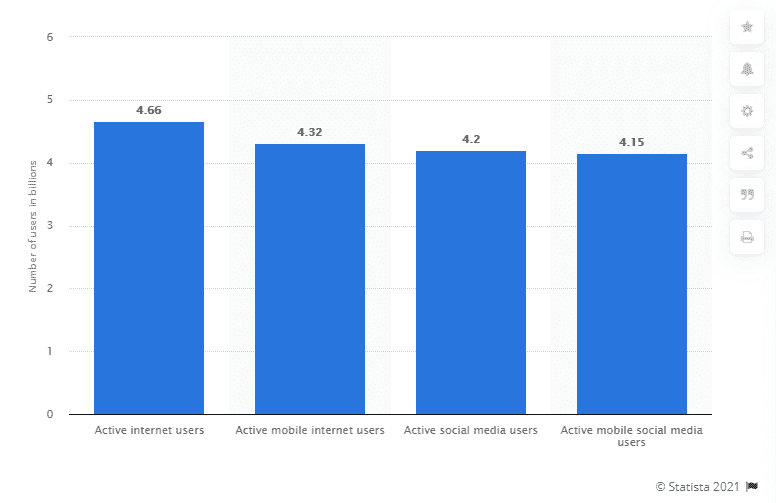 Image Source – Statista
The best decision you can make is to provide content that is displayed directly on mobile devices and on the social media platforms people use. Also, according to the Content Marketing Institute, 72% of market participants agree that content marketing increases engagement. That's impressive.
Why Is Excellent Content Beneficial for Any Business?
Let's take a look at several areas to further support the fact that content marketing works well for your business.
1. Building Trust
When you create value by talking to people without expecting anything in return, your audience is subconsciously loyal. When content is shown in the right place, at the right time, to the right audience, your company's reputation improves. Perfect content creates positive relationships with your business.
2. High Returns on Small Investments
Even if you hire a good freelancer to create your content, it's much cheaper than other forms of advertising. Content marketing continually attracts more than three times the lead. All these leads will become part of a much larger ecosystem, ultimately leading to social media reposting's, new perspectives and good brand awareness.
3. Forming an Expert Image
Exciting, useful and meaningful content will inevitably help your business be recognized as an industry leader. Users are more likely to rely on expert opinion and pay for branded products and services that focus on practical solutions to real problems.
4. Boosting Natural Links
The more articles and posts on your blog, the more likely people will be to share links to your publications. You can also use external content marketing by posting articles from experts, including links to websites.
5. Building Brand Reputation
Content marketing has a more positive impact on a start-up's reputation than some of its technologies. It is important to set high standards. In the first few months of producing good quality material, low readership does not fall into despair.
Your effort is to show results over time. You can blog in all styles that are friendly, casual, witty, humorous and well-formed. The most important thing is to stick to one tone as it will be an important part of your brand image.
6. Improving Other Marketing Channels
In the absence of content, it's not easy to take advantage of other modern marketing channels. For example, see your brand's social media profile. Continuously sharing blog posts and video content. Paid ads are content-based channels with videos and articles, especially Facebook's most popular ad format.
And don't forget reviews, which is probably the most powerful marketing channel. If people see your content on other marketing channels, they are more likely to share it with friends and colleagues.
7. "Quenching the Thirst" of the Market
Users, including prospects, spend close to 20% of their time viewing content online. And research blogs for nearly 70 percent of the brands they care about. More than half of them read the headlines of content marketing at least once a month.
What we want to say is this: the business that meets the needs of the market dominates it. If you have questions about a product or service, or need personalized, great content, we provide it. Google's algorithm evaluates content based on three criteria: expertise, authority, and credibility. Therefore, it will be a well-reputed and reliable company.
Tips To Make Your Content Pure Brilliance
To make your content good, answer the following questions from the user's point of view. Is it relevant? Is there an educational function? Does it provide the reader with value? Other tips include:
Please do not post bad content. The discomfort for all business owners is to have an indifferent audience. High-quality content can bypass indifference, promote closer interaction, and urgently resolve target audience issues.
Avoid vanity: content MUST have perfect meaning. You can check for Key Performance Indicators (KPIs) that deliver real business value – they should reflect the quality of your content. But beware of meaningless metrics like empty traffic, likes, and shares, which are less useful.
Be transparent. High quality content is easy to understand and there are no hidden motives – your audience sees the content as it was meant to be viewed.
Consider your audience: Your audience cares about their issues and questions. Try to give people what THEY want, not what YOU want to say.
Diversifying formats: how do your audience want to see content? Do your website visitors want to read long texts or watch videos? Discover all the approaches. Try to create a combination of text with lots of jokes and official articles, shoot TikToks and add music to the video, or try time-lapse report. If you decide to stick with one format, approach each piece of content a little differently. For example, if you're creating a YouTube report, try adding stickers to the video. All of these will engage your audience.
Include cultural context: Good content is always relevant to the target audience. Appreciate your audience's culture, ideas, beliefs, and principles. This respect creates long-lasting and productive relationships.
Summary
Content marketing is one of the most promising tools for promoting an internet business and it will not lose its relevance over time.
For businesses, this is a long game, and it requires a competent approach, consistency, a lot of analysis and a good understanding of your target audience.
If it's worth doing, it's worth doing well! It's time consuming with no immediate results, but on the plus side it's low risk and rewarding if you are a patient.
Write For Mazzine™
We hope this article has answered the question of Does Content Marketing Really Work For Your Business?
Interested in writing for Mazzine™? We would love to hear from you! – Join our community of writers from around the world. – Check out the guidelines on the Write for us. page.