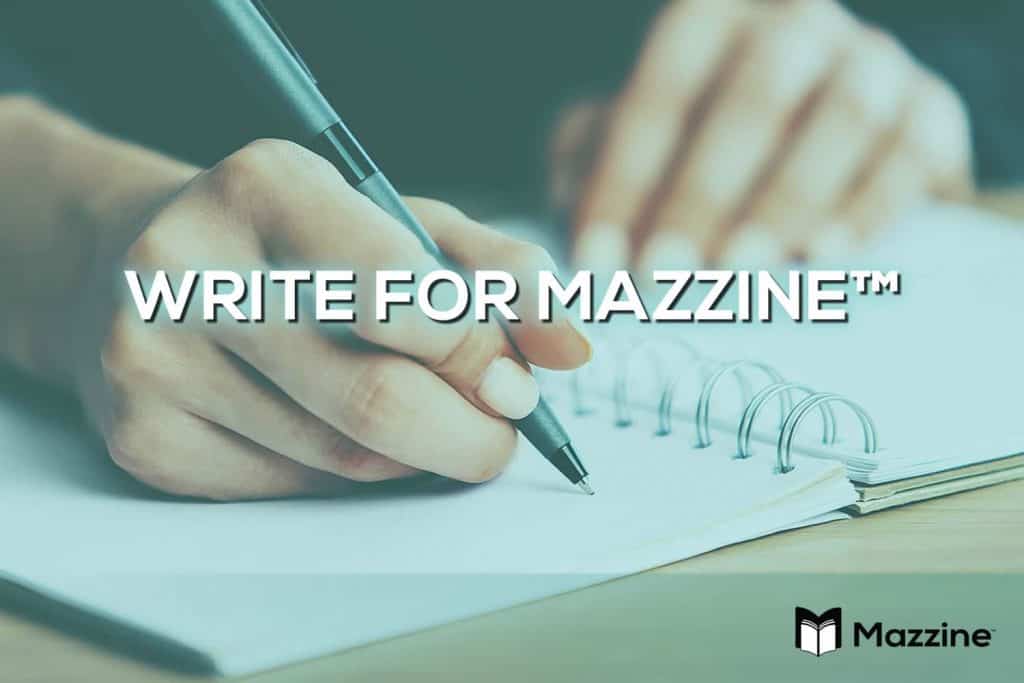 Here at Mazzine™ we are a passionate team and we really love what we do.
We're dedicated and enthusiastic about creating interesting and unique content that we and our readers care about and also enjoy reading.
That's why we love collaborating with other freelance writers all around the world; we don't only trust our own taste and opinions, but we always love hearing about what others have to say too.
If you have something to contribute — whether it's content ideas, topic suggestions, or helpful advice — we'd love for you to get in touch with us. Below you can find out more about collaboration and writing opportunities with Mazzine™
Want to write for Mazzine™ ?
We welcome contributions from guest bloggers, so if you've got an article or post idea that you think would be a good fit for our online magazine, we'd love to hear from you.
Here are some of the topics we're currently enjoying writing about:
Lifestyle
Wellbeing
Career
Design
Branding
Creativity
Social Media
Technology
Marketing
Blogging
Copywriting
Website
Business
SEO
Your article must be unique and well-written. We aim to offer quality content that's interesting, authentic and fun to read, so we won't publish any old submissions we receive.
We are passionate about our content and our readers and they deserve the best quality content we can provide, so sharing value is our mission.
The best way to get started is to email us with three potential topics that you would like to write about; we'll let you know which of them we prefer.
If you want some guidance on producing work that's likely to get published on our site or have some ideas you'd like to bounce off us, we're all ears too. Below is our writing guidelines to help you.
Writing Guidelines
Below are a few main areas you must comply with:
Articles submitted to Mazzine™ must be original and unique to our online magazine™. They must not be published anywhere else now or within the future. (We do check every article!)
Strictly "NO" plagiarism and all sources must be credited. (We are constantly checking for duplication)
Do not use anybody else's images from their blog or articles, if you're sending images please make sure these are free to use or you have ownership rights.
If your article includes any images, try to send these separately from your article, although still include them in your article document so we know the correct placing as this will allow our editor to publish the article quicker when images are sent separately.
Your article requires at least 1000 words but for good practice aim for 1500. Use correct English and spelling, and aim to edit before sending (We can help correct your grammar and spelling if your English is not so good.) If your article is very poorly written, the Mazzine™ editors may send it back to you to rewrite.
Please make sure that your article is written in a friendly manner and not biased in any way.
You should be open to feedback from us that will improve your article.
Article Formatting
Following our formatting rules will help streamline our publishing process. We would also like to keep our articles consistent, below we have outlined our formatting style for you to follow.
Paragraphs
Paragraphs should be 2-3 sentences in length. Articles and blog posts are often skimmed through, so it is good practice to present text in manageable portions as opposed to large and overwhelming chunks.
Bullet Points and Lists
Where applicable, breaking up text through the use of bullet points and lists helps create visual interest in the article.
Please use bullets for unordered lists and numerics for ordered lists such as items with numbered points. (eg – steps to follow). Items on a numbered list that includes sub-points can be bulleted.
Headings and Subheadings
If portions of your text have headings, wrap that text in one of the following codes to help pull that topic out from the rest of the text.
Use <h2><strong>Heading text here</strong></h2> for the main headings.
Use <h3><strong>Heading text here</strong></h3> for subheadings.
_________________________
Example –
Main Headings
Subheadings
________________
Imagery and Photography
If you are sending images, please make sure that they are not watermarked and of good quality that is ok to be used openly on the web. Although we take great care in making sure images are open source or permission granted, we will not be held responsible if an image is copyrighted or "the use of" has not been granted to the author.
Get The Readers involved
It's good practice to get the reader involved at some point during the article, and preferably at the end – this could be a question for the reader to help generate a discussion and encourage engagement and commenting in the comments section. This is not mandatory but good practice for user engagement.
Author Bio
At the end of your article include a short author bio and a picture to be included (If you prefer no picture that's ok just include a line or two about yourself).
Overall Requirements
---
It's good practice to aim to write at least 1000 word articles. You're welcome to write longer form content.
Articles must be exclusive to Mazzine™ website and not published anywhere else on the internet.
Please send any article images separately from your article and placed within the article so we know where they are placed, this will help our editors publish your article quicker on the website.
Authors wishing to have a bio must include one in order to get recognition.
We have the right to remove any links we feel are not appropriate and or ones that don't apply to your listing eg – if you apply too many promo links or links to a company services page. We also reserve the right not to give reasons as to why a link has been removed or disclose any information as to why a decision has been made to uphold our professionalism and privacy policy.
Once your article has been submitted to us for publication and approved by our editor, the content will be exclusive to Mazzine™ and cannot be retracted. You will own author rights and will always be credited, but the withdrawal of the article once submitted and approved is not allowed as this will interfere with our content publishing schedule.
---
Advertise
*Deals available for ongoing collaboration
Advertisement articles can be more 'self-promotional' than standard contribution articles. Content is shared constantly over our social media, newsletters and community groups.
Feel free to get in touch and pitch your ideas and topics so we can start a collaboration.
Rules to Follow:
Articles must be unique and exclusive to Mazzine™
Aim for 1000 words in the English language.
links are limited to 2, also including links to authority websites and internal pages of our website is good practice.
Include a short author bio if required to promote the author, including website and social media links.
Short bio included if required to promote the author with website home page or other social media links.
Appropriate imagery if needed within your content.
Advertising Opportunities
We have a few different options available for advertising on our website.
Standard advertising articles are featured on our blog.
Tile feature placement on the home page.
Large hero image placement on the home page.
Contact us for more information.
Contribute (FREE!)
*Improve your writing portfolio
We love hearing from writers all around the world. If you're looking to improve your writing portfolio and share your insights and knowledge with our readers, feel free to get in touch with us.
We do have some rules to follow when submitting a contribution article.
All content needs to be unique to Mazzine™
Articles can't be promotional in nature, instead, informative and offer value to the reader.
Aim for 1000 words in the English language.
A single "dofollow" link is allowed but remember contribution posts are to share insights and knowledge they are meant to be fun, not promotional, linking to authority websites and internal pages on our website is good practice.
Links to your own or other company service pages are prohibited in a free guest post and these links will be removed.
You are prohibited from using our contribution post option for outreach services to your clients. Contact us so we can work out a deal for publications.
A short bio will be added to promote the author if included, this can include a link to either your website or social media.
For free contribution articles, typical posting times range from 2-4 weeks. A rush fee is available to get published the same day.
Submitting Content to Mazzine™
If you would like to pitch an idea or topic to us, please submit the form below. Both advertising articles and contributions are shared across our social media channels on a daily basis, guaranteeing page views well after the article has been published and left the home page.
* If the form below does not appear please refresh the page.