Every year designers look to change and improve their work compared to the work they did the previous year. As with everything else, this also applies to website design. Some of the things that first gained popularity in 2021, have now become The Top UI Design Trends You Should Know Today.
Technology is constantly improving day to day, and web designers and developers need to stay ahead with new design developments to help them bring innovations into their work.
As business owners we want our websites to be as modern and as trendy as possible.
Being aware of all the new trendy elements that can be incorporated into a website to bring the best results is vital information to know.
When a user visits a website, the user interface is the first thing that catches their attention.
In order to have a recognizable website that offers a great and up-to-date user experience, you need to have the best user interface trends implemented.
One of the main trends in 2018 was mobile app design. Smartphones are a widely used device and are still being improved today.
The common look and feel of the app play an important role in attracting and expanding the target audience, as well as its availability on any device.
The current design of the user interface is evolving to provide new levels of usability. Designers need to adjust quickly to keep up with constant change.
All web design elements such as colour, typography, animation and 3D elements need to work together to satisfy the user's needs.
Let's now take a look at some of The Top UI Design Trends You Should Know Today.
What is a UI / User Interface Trend?
For example, in 2021 a lot of websites started introducing animated elements, because it was trending, and web designers incorporated it into their website design because it was a popular element that people wanted.
It's no surprise that if you look around the web you will see a lot of websites using animated elements as it's still a popular web design element.
So, to answer the question of What is a UI (User Interface) Trend?
According to Google, a trend is basically a general direction in which something is developing or changing.
We put it as: Trends are something that are popular at a certain time and can remain to be trending for a period of time.
A trend is a gradual change from the former state to the future state. What we have now could quickly be a thing of the past and ready to be reanalysed and adopted at a later stage. Ultimately, the design is cyclical and continually drawn from the past.
The basic web design principles you need to focus on in today's world of web design are:
Usability – The website needs to be accessible allowing the end user to use your website with ease.
Navigation – The website should be easy to navigate back and forth.
Responsiveness – The website needs to respond to different device screen sizes.
Structure – Grids help to structure the web design and keep its content organised, it also helps align elements with the page by keeping it clean. Further providing an increase in usability and navigation.
Content – Content is king and plays a huge role in SEO and how people find your website.
Visibility – The website's presence through digital marketing is vital to its success, it's also important you understand how the website will be found in search engines, and the platforms that will utilise the website's content.
Aesthetics – The website needs to be visually impressive across all devices. The visual appeal of your website not only enhances your brand awareness, but also enhances your credibility.
Interaction – The website needs to engage with its audience, hold their attention span, gain their trust and keep them coming back to revisit your website.
Security – The website needs to be secure without a doubt. Especially if you're selling products online as users need to trust that their payments are being handled safely.
Performance – For a website to succeed both from a usability and SEO standpoint it needs to be quick, if a website is slow, it will hinder both.
If your website adheres to these principles, you have the opportunity to attract the attention and interest of your audience.
Why Should You Keep a Check on UI Trends?
There is nothing to say you have to be using the latest UI Design Trends, in fact it's good practice to be in the mindset of monitoring, and not just incorporating something because others do, just because it's popular at the time.
Think of it like this: If you're incorporating a web design element, there needs to be a reason why it's been incorporated, and not just because it looks good?
Is there a strategic reason as to why it's been added?
What will it achieve?
Will it work well with other elements?
Will it hurt anything else on the website?
Sure, websites that surprise users and stand out from the competition will be very successful. That's why it's so important to stay ahead of the latest trends in order to be a niche market leader and succeed in front of your competitors.
But be sure you add elements for other strategic reasons other than that it looks good.
Over 547,200 new websites are created every day. Only the ones that cater for their users and are unique in their appearance will get the attention.
Just having a website on the internet today is not enough, it's vitally important that you work on its unique appearance that sets you apart for the competitors.
Let's now dive in and take a look at some of the The Top UI Design Trends You Should Know Today.
Emotional Design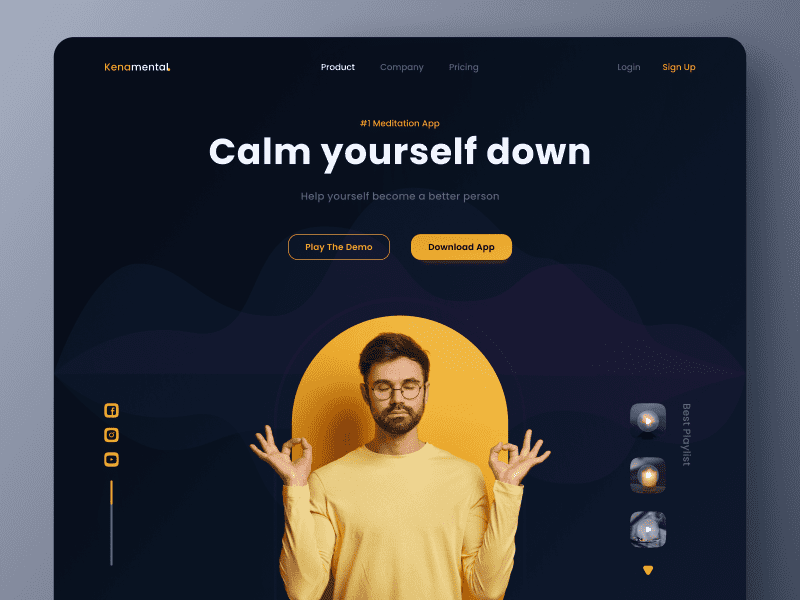 Emotional design is the concept of creating designs that evoke emotions that provide a positive user experience.
Building connections with users is very important. This will help to attract them to your website and potentially make it easier to get them invested in your content and sell your product. This is what emotional design is all about.
The visual elements of the design give different feelings and reactions among the end users of the website, not only is it a popular trend in other areas of design, it's also a popular UI design trend You Should Know.
Emotional design connections have four categories:
Surprise and Anticipation
Fear and Anger
Joy and Sadness
Trust and Disgust
Think about where your content belongs to these groups and use the right colour theme for an additional user experience.
When creating a user interface design, the aim is to design it in a way that resonates with the end user.
Abstract Design
The world we live in today is such a crazy place. More projects with more surreal elements are starting to appear. This descriptive UI design trend seems to be appreciated and desired by users, so it will continue to grow.
End-users want un-real experiences that are out of the ordinary. This is exactly what abstract and surreal design is all about.
We've covered emotional connections with viewers earlier, and this type of design trend will bond well with emotional design.
It usually includes animations, illustrations and is quite playful. It involves viewers in the design and makes them want to be a part of it. This is exactly what keeps them engaged.
Split Screen Design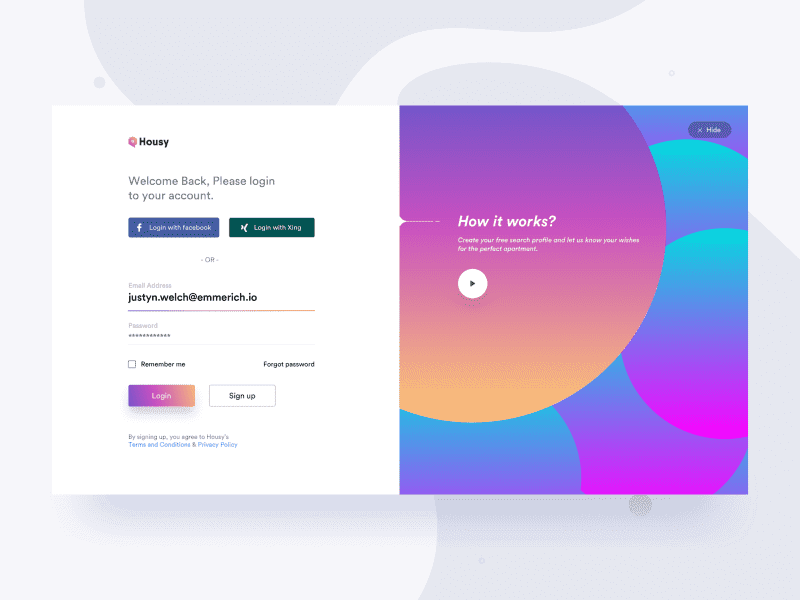 Split-screen design trends have been around for some time and keep growing in popularity. When it comes to web design the concept of the split-screen design is good for responsiveness on mobile devices.
It's no secret that mobile device usage has been increasing at an astonishing rate over the years, so a design trend like this is bound to keep increasing.
The split screen design is split into two content areas, and it collapses into vertical blocks on the trendy user interface of a small device.
This allows you to design content that not only works, but also looks great on a variety of devices.
Many split-screen design models have similar side-by-side screens. This can give the item greater importance, especially on mobile devices.
Stacked Headlines and Some Photos
When something is developing fast, we tend to go back to basics. In this case, it's text and it's one of the latest UI Design Trends.
UI Design Trends revives stacked headlines and some photos. Text is always a big element of attention. This design trend can look surprising with the correct use of typography.
Besides, it gives the user a lot of information at a glance. However, if done incorrectly, using this trend can lead to complete failure.
For example, what you can do to improve a large text design starts with using triple-stacked headings on your home page.
The text sizes in this type of design layout are far smaller than popular oversized fonts. It's important to bear in mind that the end-user must want to read the text you place in the position it's been placed in to have good success with this UI Design Trend.
Augmented Reality (AR)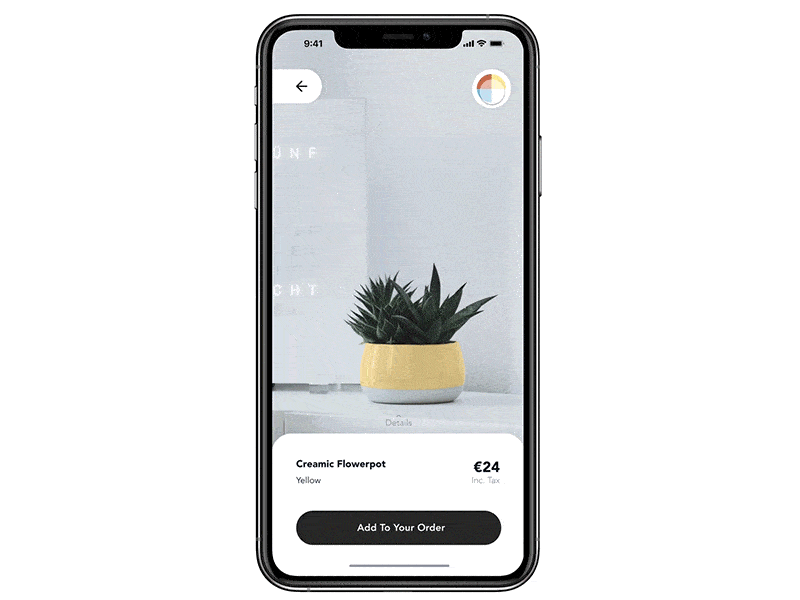 To fully engage website viewers on a web page, web designers should go beyond the screen interface and include physical interactions.
Thanks to the emergence of Augmented Reality (AR) it's now possible to achieve this UI design trend.
Google and Apple are both introducing their AR development platforms that combine the digital and physical worlds.
AR allows users to see real-world digital objects. This can greatly improve the user experience.
For example, IKEA uses AR, so consumers can place furniture wherever they desire to see if they like its appearance before purchasing.
In cases like this it makes online shopping experiences a lot more convenient for consumers.
With a little help from your smartphone's camera, you will be able to see how different items will look in your environment.
Some clothing companies have also implemented this UI design trend, basically the same concept you upload a photo of yourself and it places the clothing on your body so you can see how it looks.
Many brands are starting to use AR on their websites and applications. The more consumers are familiar with this option, the more they will look for it. This will definitely make augmented reality a lasting trend
Virtual Reality (VR)
Vectors have been around for a very long time and they are not going anywhere anytime soon, with the emergence of Virtual Reality (VR) you can now make a vector interactive.
Web designers can go beyond the norm of today's imagery and use advanced modern technology to create a combination of real life and virtual reality.
Web designers should always be ready to evolve with new technological advances. Virtual reality is here and it's already becoming a part of web design, so we recommend acquiring the appropriate skills now.
The sooner you incorporate UI Design trends into your designs, the more you can set yourself apart from your competition.
Geometric Structure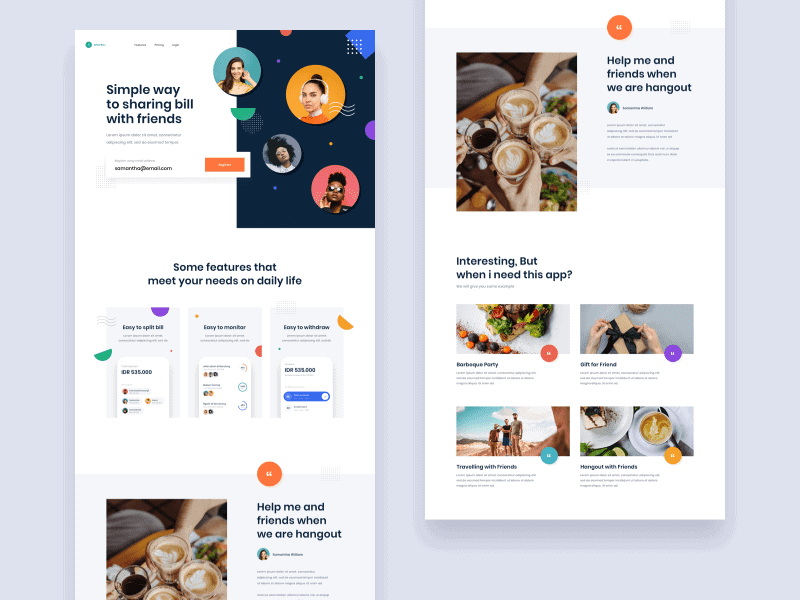 No matter how trendy it is now, the basic rules remain. Design should be done well, even if you're not ready to put elements of artificial intelligence or virtual reality into it.
Geometry is not a new design element, it's been around since the early 17th century, and it's an element of design that will always be on trend.
Precise geometric elements will allow you to show users the most structured website possible. And that's the essence of UI design!
Vibrant Colours
With vibrant colours, contrast, and stunning visual details, you can highlight the important parts of your design.
Study what draws in the user's attention and use vivid colours to highlight the important design element even further.
To gain a better understanding and gain more insights into your end-users, we recommend using a clickable heatmap to find out which areas of your website are the most popular. Then incorporate that information into your design.
You can even take it a step further and have bright vibrant gradients moving and changing colour within the website design like the example above.
Take a look around the web at your favourite websites, and more than likely there are some that use vibrant colours to highlight important areas.
Take note of this and maybe this could be an easy UI Design trend you can implement on your website.
More 3D Elements Instead of Photos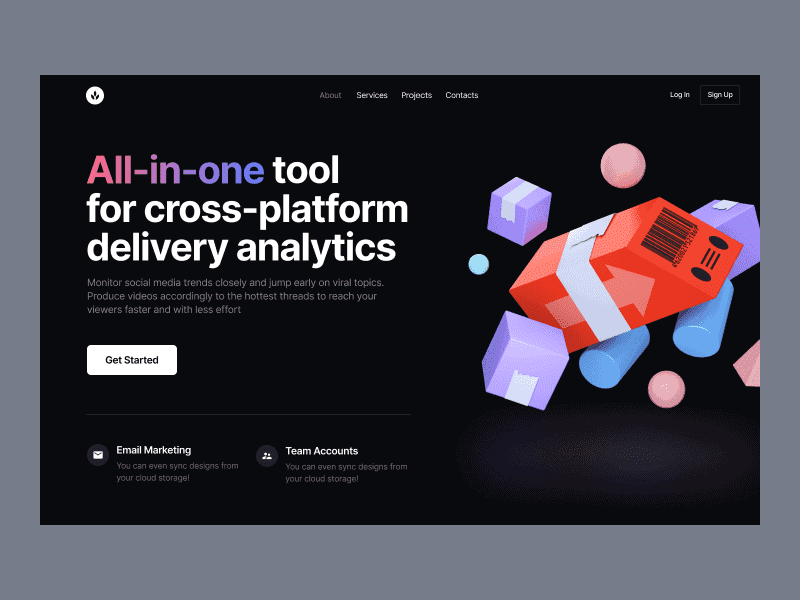 An illustration is far more than just a picture, and it's clear that the use of 3D graphics will become even more popular as time goes by.
There are ample tools available on the market for 3D graphic design, and designers are honing their skill set in three-dimensional design for website design.
Simplification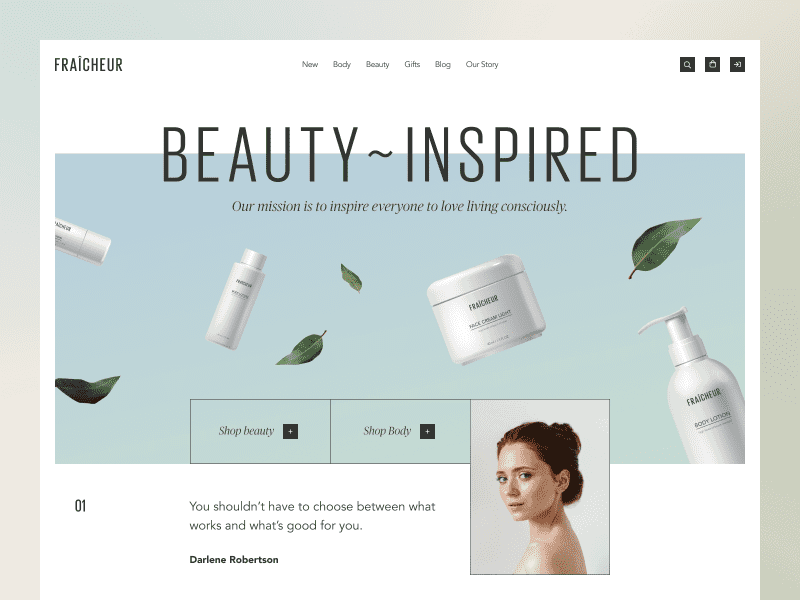 Another important UI Design trend is simplification in design. When it comes to design there is a saying "Less is More" why overcomplicate a design that doesn't need to be too complex.
All it takes is a few seconds to make an impact and get your message across to the end-user.
When it comes to implementing interactive design trends, it's easy to overdo it.
Take a moment to look at your website, maybe there are ways in which you can simplify the design of it, to to get the message across quicker and clearer.
UI design's main purpose is to simplify the process of user interaction while navigating your website. You achieve this by simplifying the functionality that is already in place.
You will notice online that other website designs are trying to follow the simplicity trend and achieve minimalism and simplicity in their web design.
What is Influencing the UI Design Trends?
It's clear that static imagery is taking things a step further and designers will be taking their vectored images and introducing more interactive elements.
It's also possible that we will also at some point be able to use virtual reality glasses to interact with websites who have introduced virtual reality elements into their website design.
There is no doubt a new era of website design is on the way, and while pursuing UI Design trends, don't forget that the user's comfort is the main task of UI Design.
Conclusion
We are now going into another year of exciting advancements in UI Design Trends, improvements and technologies to improve user interaction and experience in website design.
To satisfy consumers and provide them with the best user experience possible, designers need to keep ahead of changes and advancements in the UI Design Trends.
It is imperative for designers and developers to constantly strive to meet their customers' needs by providing a great user interaction and experience when navigating the website.
A user's journey and experience are key when designing and developing a website.
Make yours a great experience, but don't overdo it!
We hope you have enjoyed The Top UI Design Trends You Should Know In 2022. For more reading, check out these 8 Innovative Web Design Trends For 2022
FAQ
What is the meaning of UI design?
UI Design stands for User Interface. It's likely the first thing a viewer encounters when using an application or website. The User Interface design is responsible for the applications or websites appearance, behaviour, interactivity and usability and its overall feel when been used.
What is UI vs UX?
When you interact with a website, app, or other electronic device, you interact with screens, buttons, toggles, icons, and other visual element this is what is known by the UI design.
UX describes the whole experience you have with a product and how it makes you feel when interacting with it.
Should i learn UI or UX First?
Working backwards from an understanding of UI will open the gates to designing a better UX overall.
Understanding UI before UX is that it allows you to practice pattern recognition, and pattern-based behaviors.
What Skills are needed to be a UI designer?
There are many areas that will help you become a better UI designer.
A good understanding of interaction design principles
Branding, typography and colour theory
Style guides
Wireframing and prototyping
User research and personas
Communication skills and teamwork