Logos are essential for any business. They are the cornerstone of any good business or organization because the logo gives a visual representation of the company brand. Let's share 7 Powerful Tips For Designing a Great Logo.
The logo is a big part of your brand identity. If you want to grow your company as a brand, you have to create a logo that defines your company's goal because people will see your logo as the identity of your company, and they will remember you with the help of your company's logo.
You want your logo to explain what you do and how you do it. You will use your logo in every vital part of your company. You'll include it on your social media handles, marketing materials, advertisements, business cards and more.
So make sure to create a logo that reflects the nature of your business. In this article, you'll get some tips for designing a great logo.
Whether you are the owner of your company, an employee or even just a freelance designer and you are considering creating a logo for any business, this article will be of great help to you as you will get to know the best tips to use when working on your next project.
Let's dive in!
Here are the Top 7 Tips For Designing a Great Logo
Understand your brand
A picture says a thousand words
Colour is the key to a good design
Keep your logo design simple
The logo reflects the nature of your business
Impression is crucial
Think outside the box
Use a Powerful Logo Maker
1. Understand Your Brand
Before you set out to create a logo, make sure you understand your brand, and that you have some insight into the brand.
Different brands have different vibes. A brand vibe creates an emotion in people, it commands a certain type of feeling in them.
Like, when you see the McDonald's logo, you may feel hungry, and when you see the Coca-Cola logo, you may feel thirsty.
But why are these feelings triggered when you see a logo? Because these companies understand their brand very well and they have created the logo accordingly, but not only that certain feelings and emotions towards the brand trigger feelings of hunger or thirst in this case, even when there is no food or drink present in the design.
We asked Andrew, the founder of The Logo Creative, and the guy who created our logo design for his insights into this. Here is what he told us:
A logo design is not created to explain what a company does, the purpose of the logo is to be the face of a brand, and help identify it in its purest and simplest form.

A logo is a single element of a brand, and the most important element and asset a brand can have. People make associations with brands, and when they come into contact with it they evoke certain feelings towards it not just because of the logo itself, but all the other brand elements that surround the logo.

So, when people see a logo for instance McDonalds or Coca-Cola that simple brand mark triggers everything that person knows about that brand within seconds triggering those emotions, which can make them feel hungry or thirsty.

Andrew Marriott – The Logo Creative
So, as we have learnt, a logo design is not created to explain what a company does, the purpose of the logo is to be the face of a brand, and help identify it, in its purest and simplest form.
It all boils down to the power of branding, the logo is so powerful because of every other element that is working around it.
So, before creating a logo, you have to understand your brand and its target audience. While designing your logo, keep your brand vibe in mind, and spend some time thinking about how each logo makes you feel.
When starting out it can be tempting to include too much in a logo design, for instance if you have a travel business, you may be tempted to include an automobile illustration in the logo like an aeroplane, bus, car, or other form of transportation.
Stop and think, it's too obvious. there are billions of logos out there that are typical and not unique, think simple things unique! You don't need to explain, your focus is identification and memorability.
By doing this, people will remember your business by just seeing your logo. Starting a business does not have to be difficult and you can start a business with no money, but converting that business into a brand is a different task altogether.
To build a brand, you have to pay attention to every little detail.
2. A Picture Tells a Thousand Words
The logo says many things to people about the business. You don't have to explain everything to people; the logo is not for explaining what your business does, its to identify your business. Less is best when it comes to your business logo, its purpose is identification and memorability.
Sometimes, we see typically less unique logos, that we instantly understand the company; if we see spanners and screwdrivers, we know that this company deals with cars. Likewise, when we see diamond icons, we quickly conclude that the company or business is all about jewellery.
These types of designs are obvious, sure they may explain visually what a business does, but in the long run they are less memorable and far from unique.
For example, Red Bull has clearly shown the energy and strength in their logo by adding the illustration of a Bull in the logo because everyone knows that a Bull has so much power and energy.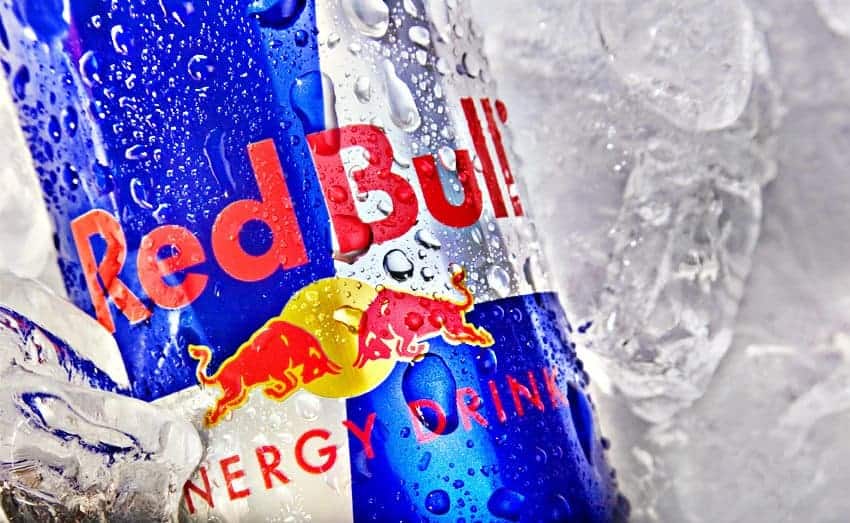 The Red Bull logo tells people that after consuming their drink, they'll get the energy of a bull, and this logo has played an essential role in the success of Red Bull energy drink; today, Red Bull is a well-known brand in the beverages industry.
Lots of established companies use illustrations in their logo that evoke feelings and emotions towards the products and services they offer, this also tells people about their business vision.
So, while designing a logo, try to include relevancy to your company that triggers certain feelings and emotions, and also provides some information about your brand.
3. Use Colours Carefully
Colours play an essential role in logo designing. If you want to design an outstanding logo, you have to choose the colours of your logo wisely.
One of the great ways to invoke emotion is through colour. Different colours evoke different emotions. You can gather a feeling in the customer's mind by using a specific colour in your logo. For example, if you use red as the primary colour in your logo, it will send the message of being aggressive, passionate, and essential.
If orange is the primary colour, it will invoke feelings of being playful, energetic, and cheap. Yellow, as a dominant colour, evokes the feeling of happiness, friendliness, and of warning. Different companies use orange colour to grab the attention of their customers because orange colour activates the anxiety centre of the brain.
Facebook, Twitter, and many other social media platforms use blue because blue indicates trustworthiness and is inviting.
4. Keep Your Logo Design Simple
Simple logos always become global icons. Every expert logo designer will tell you that a simple logo performs much better than a complicated one.
People easily understand a simple logo; the logo has one or two colours, fonts and elements that look simple, and viewers get the message at first glance of the logo.
Think of the Nike logo; it's just like a check-mark. A great example of a simple and globally famous logo. Almost everyone in the world recognizes Nike shoes by just seeing a check-mark (Nike logo).
Another excellent example of a simple logo is the Amazon logo. The symbol of Amazon is straightforward, they used two colours, but the message behind the logo is instantly recognizable. An arrow goes from A to Z that indicates Amazon has everything on their platform.
Many other companies use a simple logo, and they are famous globally, like Facebook, YouTube, Adidas, Yahoo, Jeep, and more.
5. Logo Reflects the Nature of Your Business
Your logo reflects the nature of your business. It tells people about the company you run and the type of services you offer. So make sure your logo is capable of representing your business.
The colours, fonts, and designs that you use in your logo play an essential role because they tell of the nature and vision of your business.
As we have said earlier, different colours evoke different emotions in people's minds, so you have to choose the colours very carefully. If your business is related to food, you can use red, and if you're building a social site where people interact with each other, you can use blue.
When you focus on every little thing while creating a logo, the logo aligns with your business and becomes your company's brand identity.
6. Impression is crucial
Your logo should leave an impression on the customers and the market. For that impression, you have to create a logo that is unique and attractive. If you make just a copy of a logo design that is already famous in the market, then that logo can't help you become a brand.
Many people make this mistake; they copy famous logos and try to make a similar logo with some changes. They forget that the logo is already renowned in the market, and to make your logo famous, you have to first compete with that logo, which will take a lot of time.
You can build an impressive unique logo by understanding your brand and by appropriately using colours and fonts.
Whenever you launch any new product, you use the logo on that product, and if your logo is attractive, it creates excitement in customers, and they start liking your logo design; they don't forget that design their entire life.
7. Think Outside The Box
Many world-famous brands are represented by an unrelated logo. Their logos are totally different from their brand, but still, they are the most recognizable brands. Brands like Apple, Nike, Adidas, Mercedes and more have a logo that's different from what they're offering.
Apple is not a food company, but its name is apple, and the logo is also an apple with a slight bite. Mercedes has a logo that doesn't include a car.
Sometimes, you have to think outside the box as that can set your brand apart from the competition. Nowadays, startups are booming; everyone is coming up with new ideas; hence new logos are continuously coming into the market.
So, before you decide to choose a logo for your company, check that there's nothing similar already out there.
Conclusion
As you know, the logo is a crucial part of your company. Before selecting a logo for your company, you have to focus on many things; you can't simply choose any design.
That's why we decided to share some tips for designing a great logo so that you can create a great and unique logo for your company or organization.
Follow the tips mentioned above to design a great logo, and if you have any questions or problems, let us know in the comment section.
Write For Mazzine™
We hope these 7 Powerful Tips For Designing a Great Logo have been helpful.
Interested in writing for Mazzine™? We would love to hear from you! – Join our community of writers from around the world. – Check out the guidelines on the Write for us. page.
FAQ
What are the logo design principles?
The main role of a logo design is to identify and represent a brand in the most simplistic way possible. While differentiating a brand from its competitors.
While creating a logo a professional designer adheres to certain principles:
Simplicity.
Memorability.
Originality.
Modern and Timeless.
Balance.
Complementary.
Versatility.
What are the different types of logo design?
According to The Logo Creative a professional logo design company The different types of logo design are.
Wordmark/Logotype Logo Design
Lettermark / Monogram Logo Design
Symbol / Icon or Brandmark Logo Design
Combination Mark Logo Design
Emblem Logo Design
What are the rules of logo design?
Everyone who interacts with your brand will come into contact with your logo. That been said it's vital that your brand logo is created correctly by a professional. Here are some important rules of logo design.
A logo design needs to reflect a business in a unique and honest way.
Keep it simple and avoid adding lots of detail.
Logos must work well in black and white and not rely on colour.
Logos should be scalable without losing any quality. E.g. they should be vector format.
A logo design should be artistically balanced.
What should you avoid in a logo design?
Logo design is only one element of your branding strategy, it's also one if not the most important and crucial aspects of any brand to get right.
Poor font choice can make or break a logo design.
Don't add too much detail. Keep it as simple as possible.
Too many colours
Copying a design. Aim to be as unique as possible.
Raster images. Logos should be vector images for scalability.
Only designed with trends in mind.
Clashing colours that dont work well together.
Unclear intention.
What are the core visual design principles?
When using these principles together they help create a visual design that is not just aesthetically pleasing, but also optimizes the user experience
Scale
Visual hierarchy
Balance
Contrast
Pattern
White Space
Proportion
Gestalt
Repetition
Unity
Variety